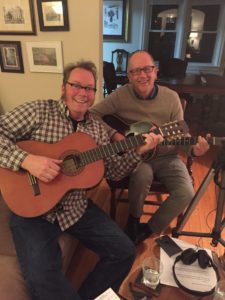 Meet Rick Fines – musician, storyteller, father
https://www.rickfines.ca
Rick Fines grew up in Peterborough during an era when the city's manufacturing industries were thriving, your parent's profession was described as either blue or white collar, and musicians got their start at the
Red Dog Tavern and the Dick Turpin Lounge.
For more than 38 years Rick Fines has been living a life of music – as an award-winning songwriter, performer and teacher.
Whether he's performing on his own, or with the legendary Jackson Delta, this award-winning troubadour loves to cook Indian food, spend time with his family, welcome newcomers to our community, and so much more.
Please jo
in Andrew and Carol as they sit down with this Canadian icon of roots music for the most recent episode of 7 Questions Peterborough.  In this episode you will hear Rick play excerpts from two new songs as well.